This is a guest post from Alan Bacon, excerpted from "Rolling Through Time", the official newsletter of the National Museum of Roller Skating, dated August 31, 2016. 
What is a week like at the National Museum of Roller Skating? Who actually shows up? What are their reactions? The second week of July I was fortunate enough to experience these reactions first hand by serving as a volunteer docent to almost 400 visitors that week. Most importantly, I rediscovered that the roller skating industry has a jewel of a museum.
I first visited the museum in Lincoln for the first time several years ago; I was impressed. Those experiences prompted me to get more involved as the years passed. But this summer I wanted to go back with a new set of eyes, and to reevaluate my commitment to the museum. Since the museum was between curators and could use some help during Nationals, this was the time to go.
I was impressed again, but at a new level. Every visitor I had a chance to meet at the museum was pleasantly surprised. "WOW" was a common reaction. "I didn't know." Even teenagers, whether competitive skaters or not, were impressed.
Around 300 Derby competitors, mostly Jr. Derby, in town for competition visited the museum that week. Most of them were relatively new to roller skating, and it was fun to watch their excitement of seeing the museum for the first time. I showed them the museum's Derby artifacts and explained to them how Derby began in the 1930s as a 3,000-mile race, patterned after the marathon speed skating races (derbies) of the early 1900s. They, in turn, taught me more about modern Derby history. The museum became a gathering place. Multiple teams ended up visiting the museum at a time, and the space gave them a chance to meet other competitors and share their recent experiences. They were still bumping in to each other, but now they had a chance to talk. The museum buzzed with conversation. At one point I thought we were having a Section I social. A derby team from Olympia, Wash., was meandering around the museum, when John and Diane Gustafson from Auburn, Wash., appeared. Some of the derby ladies had skated speed for them and a reunion commenced with lots of hugs. Then family and friends of Tom and Janis Hughes from Anchorage, Alaska, walked in.
I met people from Lincoln to Barbados, and across North America. One older woman was particularly excited about the display of Nebraska rinks in the showcase near the entrance. She kept pointing at the historic rink pictures and saying, "I remember that rink", or "I knew the people who owned that rink." One older man from Pennsylvania was also excited to see the rink stickers from his home state, and to recall the memories from the many rinks he frequented as a younger skater. It was evident that roller skating had a meaningful impact on both lives. It was also a little disappointing to see some local children who had skated once or twice in their lives, who liked their skating experiences, and who like the museum, but nevertheless, would probably never see skating as meaningful to their lives as many in previous generations.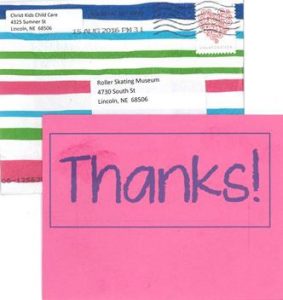 Children also found the museum to be worth their day. One morning during my visit, a local eight year old came with his grandmother; it was a summer outing for them, like for many local families that week. He had visited before with his class from school. He walked through the door and immediately turned to the right and put a quarter in the loud band organ, an enjoyable experience for all ages that startled most visitors who had never heard one before. Then he showed his grandmother the wheel display and demonstrated how the wheels turned, and turned, and turned. Kids seem to like the opportunities to interact with the artifacts displayed. He took her to the showcase with all the animals on skates, another young children's favorite display. You never know what a classroom of young children might take away from a field trip, but he was the guide for his grandmother, and it was fascinating the bits of information he remembered about various displays that he was so eager to share with her.
One daycare also stopped in. The room was filled with boisterous kids, some running around. Late one afternoon a single, precocious boy about 12 showed up. He asked if he could bring his bike inside, explaining to me that his mother lets him travel around town up to 8.9 miles from home. He listed for me all the museums and special local sites he had biked to this summer. He spent a lot of time looking up information on his phone, including about the museum, and letting me know various stats about many things. I told him he could be the next Plimpton and invent a new generation of skates. As he was leaving, right next to the front door, was a poster with 15 national flags on it. He paused and identified all of the countries. You never know what seeds might be planted in a young person's mind by a visit to a museum.
A group of adult male speed skaters came in towards the end of the week, just as Nationals was transitioning from derby and slalom, to hockey and speed. They had been to Nationals many times over the years, and to the museum. They were most excited about the wheel collection, but not to spin them around. They had lived through and competed with some of these wheels. These wheels were personal. These were not something to play with but to tell stories about. They did the talking, and I did the listening. They need to be consulted the next time the display is updated; they had strong suggestions and great debates about what wheels needed to be added.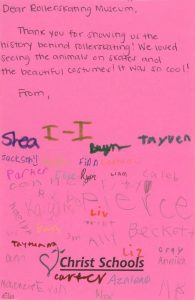 Lastly, I experienced three semiprofessional museum goers. One couple had been on the road for eight months, seeking out a variety of museums. She took copious notes for a blog she is writing; he took many pictures for it. The very last person I guided through the museum on Friday afternoon said he has visited around 2,000 museums. He, along with the previous couple, was the only one to spend two hours and systematically document the museum. And yes, all three of these "pros" were impressed, too.
Most people, no matter how excited about the displays, get museum fatigue in less than an hour. I didn't have to explain to the museum "pros" what Vaudeville was, as was necessary for even most adults. Without a guide, even with good written and displayed captions, the average visitor doesn't seem to be able to put in context the Frank family, for example. They are just a picture of a couple doing fancy tricks on skates, wearing unusual costumes. At a Civil War site with my family this summer, I spent 80 dollars to have a private tour of the battle site with an interpreter. This museum offers the same service for free.
The museum might not have a lot of extra open space like some museums, but it is a tremendous storehouse of artifacts and information. No group, not even the two semiprofessional museum goers, couldn't take it all in. During the quiet times that week I could lean up against the souvenir counter in the back and look out across the museum, and begin to appreciate the thousands of hours former curators and others have spent in collecting, organizing and displaying the artifacts. Also, I could begin to appreciate the confidence that so many historic figures in roller skating and their descendants have put into the museum by donating their precious personal belongings to the museum. This museum, like any museum across the country that doesn't have government funding and a large endowment, struggles for funding. But all the money in the world could not replace the precious artifacts and documents stored there. They truly tell the story of our sport and industry.
For more information on the National Museum of Roller Skating check out their website or follow them on Twitter and Facebook.  And if you are lucky enough to go, take a selfie with Dominic's Hammond Organ on display there and send it to us!