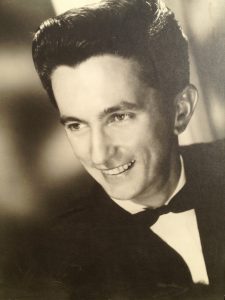 I grew up in Western New York State on the shores of Lake Erie, where my parents owned Concord Grape Vineyards.  Not too far from the grape farm was a school and once a week they would have roller skating in the gymnasium.  I always seemed to end up there whenever my parents would allow me to go.  I remember someone playing records, 78's I believe, and they were rather interesting to listen and skate to.  It was organ music.  Back at the farm house there was a piano and I often tried to play the tunes I hear at the school skating rink so my parents let me take piano instruction.  Unbeknownst to me this was the beginning of roller skating music entering my life.  At a very young age I knew I wanted to be a musician.
Around 1950 my parents retired from the grape growing business and moved to Southern California.  Again I found roller skating by going with a church youth group to a roller skating rink in Pasadena called Moonlight Rollerway, owned and operated by Cliff and Mildred Neschke.  I remember the first time we pulled in to the parking lot; I saw this massive building with a crescent moon all in neon lights.  It must have been at least 40 feet high.  It was beautiful to me and so impressive.  As we approached the entrance walking up the stairs I heard great organ sounds of the organist, Jim McKiwan.  Clear out in the parking lot these sounds could be heard.  The organ music just filled the rink and there were so many people just skating around to the music.  What a wonderful feeling that was.  That's when I said this is what I want to do.  I want to play skating music.
I was in high school then and played piano in a Latin dance band for a couple of years.  Because I could sight read music I got the job at the first audition.  I was the youngest musician in this band.  This was a great experience.  However, I continued to take more lessons from an organist who had an idea on what I wanted to accomplish.
Around 1958 I started playing the organ at Moonlight Rollerway.  I was the organist for 27 years until 1985 when Cliff and Mildred retired and sold the entire operation to me.  I want to thank Cliff and Mildred for the opportunity to become a rink operator.  However just prior to 1985 for about 5 years I leased and operated on of the seven Holiday Skating Centers owned by Peter Panno and his son Tom.  There were also instrumental in getting me started in rink operation, and I want to thank them as well.
In the mid 1960's I started playing the organ for dance events for the Southwest Pacific Coast Regional Championships.  I transported my own organ equipment and never missed a year.  I retired from this in 2010.
In 1968 I started playing the organ for the dance events at the USARS National Figure Skating Championships and transported my organ equipment around the United States for these events as well.  I did this for 42 years.
Some of you may wonder how on earth I did that.  Well, in the early days it was a regular automobile pulling a U-Haul trailer.  Then I purchased an extra-large Maxi-Van.  I use a ramp and a hand truck and try to put all the heavy equipment on wheels and used well planned packing techniques.
In the late 1960's is when the business of Rinx Records came in to the picture.  Rinx Records was founded by Fred Bergin in 1950.  Around 1968 I was approached by Fred and offered the opportunity to record dance music on 45 rpm records.  I am greatly honored to have known Fred and thank him for the opportunity he gave to me.  He was a giant among the many that organized roller skating in the United States in to what it has become today.  He was an RSROA/RSA President, founder of the SRSTA Society of Roller Skating Teachers of America.  He was Chairman of Dance Committee during an era when dancing on roller skates was a normal part of everyday skating session activity.  He wrote roller dances as well.  Last but not least, he was an organist.
In the early 1970's Fred wanted to retire and wanted someone to take over Rinx Records to keep it going.  He was concerned about the availability of roller dance music so he offered the business to me; I accepted and made the purchase.  As of today I'm still carrying on with the recording of music for those who like to dance skate, socially or competitively.  Rinx Skating Music is still a viable business.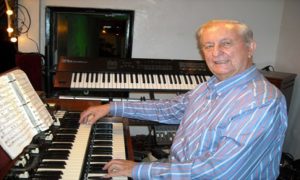 Through the years I've played for many skating invitational events in California and other parts of the U.S.  I've played in many fine dinner houses in the Los Angeles area.  I've played for banquets, weddings, fashion shows, Pasadena Rose Bowl Kick Off Luncheons, Tournament of Roses Queen Presentations.  I even played the opening of the movie The Buddy Holly Story which was filmed at Moonlight in 1975.  This past year I was featured in a Coca Cola Super Bowl commercial.
Regardless of what I do, I always keep roller skating in the forefront.  I try to promote and support roller skating whenever possible.  I believe in supporting the RSA and RSM.  I have been a member of RSA for 38 years and a member of RSM for 52 years and have been honored with a Life Time Membership award.  I have also been a member of USARS for 35 years as the President of the Glendale Dance and Figure Club at Moonlight Rollerway.  I have never missed a year in any of these memberships.
As for Moonlight Rollerway, it is a successful business.  Skating sessions every night of the week.  I have a session that pleases just about everyone.  Since I am in the Los Angeles area and very close to Hollywood my demographics are predominantly adults and 3 of our nightly sessions are adult oriented.  Of course I have the usual family and children's sessions and the Birthday and Private Parties which we all have.  One of our most popular party options is our Adult After Hours party from 11:30pm until 1:30am.  We have skating classes and private instruction as well and also a large competitive skating club.  I have 5 skating coaches and they are some of the best in the area.  All are certified with USARS and RSA/SRSTA.  There is one night I set aside and that is for my nostalgic "Old Time Live Organ Music Night".  Since I own the rink and play the organ, why not?  There has to be someone to carry on the tradition.  There are still those who like to skate to the organ music, not only old timers but young adults in their 20's and 30's who enjoy the night and find it quite different.
Fortunately I am near the filming industry so a lot of television shows, movie scenes, commercials, photo shoots and celebrity parties use the rink.  It's good extra income and great exposure for roller skating.
I want to thank all the coaches, Rink Operators, individual dance skaters, Skating Clubs and just individuals who purchase Rinx Skating Music CD's to skate to or just for listening.  I also want to thank my employees who are dedicated to me, the rink and to roller skating.  They play a great part in making my rink successful.  Some of them have been with me for quite a number of years.