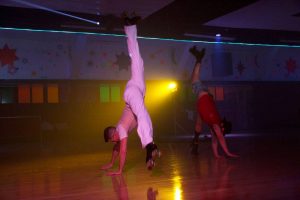 Trey Knight has been on roller skates most of his life starting out on the neighborhood streets and local roller rinks for birthday parties and public sessions.
He soon became a full time athlete, by the age of 10, training and qualifying for the National Championships for 14 consecutive years, including 4 years qualifying for the World Championships, receiving 9 US National titles, 7 International titles. These include the Gold medal and 2 bronze at the World Championships, 2 Gold medals at the International German Cup, as well as 2 Gold Medals at the South American Championships. He was also part of the final US Olympic Festival team members 1993 and 1994, the last 3 years of the games. Trey and his partner received the bronze medal, silver and then the gold medal the following year.
In addition to winning the 1995 World Championships, Trey trained in multiple disciplines. He passed the highest level gold testing in three different disciplines, International Dance, Freestyle and Figures. Trey also qualified for the US Olympic training Center in Colorado Springs 6 consecutive years. At the training center he was able to train with the absolute best teachers from the USA as well as the world. Jumps, spins, speed, street, jam, disco, ballroom, partnering, and stunts on skates, he does it all.
Trey was then in high demand as a private, group, guest teacher and choreographer, nationally and internationally for 7 solid years until moving to Los Angeles to focus on the entertainment industry. Based in San Francisco at the time, Trey trained national/world champions in Los Angeles, Seattle, Portland, Miami, San Antonio, Santa Clara, San Jose, Italy, Germany, Argentina, and France. He also established 2 new skating clubs from ground up in Santa Clara as well as in Milpitas, CA.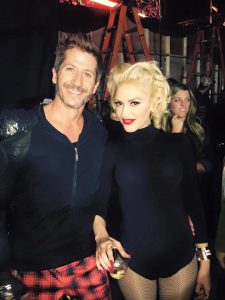 Three weeks after moving to Los Angeles, Trey booked his first major film, a roller disco scene with Mike Myers and Beyonce, in Austin Powers 'Goldmember.' While focused on creating his avant-garde extreme dance company Stilt World, he continued booking many different skating jobs choreographing, performing, casting the best skaters available for entertainment as well as consulting national and world champions. Working with celebrity and commercial brands, recently on camera principle with Gwen Stefani, Elle King, live with Katy Perry at the Cannes Film Festival and commercial choreographer for Dr. Pepper and Apple he has blended his expertise seamlessly into the professional entertainment industry.
Trey has now shifted his focus merging 15 years working in the entertainment industry, performing in 37 countries, teaching , choreographing, beginners, kids, adults, pro, national and world champions, he is bringing this all together in Knight Rollers. Starting with a new concept roller jam disco class at the famous Moonlight Rollerway, the roller skating rink to the stars.
Founder of Knight Rollers, Trey will be available for casting, choreographing, all levels, styles, disciplines of roller skating for live stunt shows, TV, film, commercial, music video, industrial, corporate, and private events.