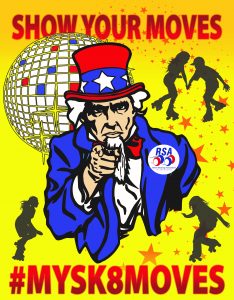 The Roller Skating Association International encourages kids to become physically fit and active 365 days a year. This year's theme is encouraging kids to get active and show their moves in the rink. #mysk8moves is a movement aimed at reminding kids that a healthy lifestyle and physical fitness can still be fun. This October member skating rinks will be hosting month-long events celebrating the health benefits and entertainment that roller skating provides while highlighting all the fun that can be had.
America's favorite pastime, roller skating, is a way to show your individuality in the form of movement. Are you a jam skater? Shuffle skater? Speed Skater? What are your moves? Roller Skating gives kids the opportunity to socialize, get active, and have fun in a safe environment.
The RSA wants people to know that roller skating is one of the few activities that provides a complete aerobic workout for over 640 of the body's muscles – especially the heart. Families, kids, and teens are encouraged to dedicate themselves to achieving an active lifestyle. To find your nearest skating rink, please go to www.rollerskating.org and click on Locator.
Roller Skating has long held the support of The President's Challenge Program and Let's Move Program with the mission of keeping kids active and healthy in a safe environment. The President's Challenge is a program that encourages all Americans to make being active an important part of their everyday lives. No matter what your activity or fitness level, The President's Challenge Program can help motivate you to improve. For more information, please visit www.presidentschallenge.org or call 1-800-258-8146. Let's Move! is a comprehensive initiative, launched by the First Lady, dedicated to solving the problem of obesity within a generation, so that children born today will grow up healthier and able to pursue their dreams. For more information visit http://www.letsmove.gov.