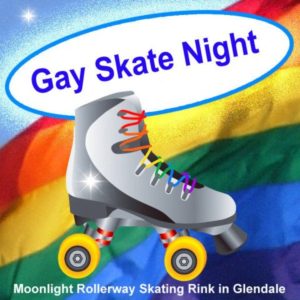 Few places in this world foster a sense of community and well-being, but the City of Glendale and the Gay and Lesbian Community are privileged to have the hospitality of Dominic Cangelosi, Owner/Operator and the MOONLIGHT ROLLERWAY ROLLER SKATING RINK. Every Wednesday night from 8:00 pm to 11:00 pm Moonlight holds a LGBTQ Skating Session, which prides itself on offering the community an alternative to the bar scene.
As a joint venture, Cangelosi and Moonlight Rollerway have been offering this session for the more than 20 years and found it to be quite successful.  The idea originated after being approached by numerous members of the Gay and Lesbian Community.  Cangelosi decided it would be beneficial to both the Gay Community and the skating rink if he offered a Gay Skating Night.  The response was enjoyable.  Currently Moonlight attracts skaters from all around the Los Angeles Area and as far away as Ventura, Inland Empire, and Orange County and beyond.
This high-energy atmosphere provides not only a fun way to receive many health and fitness benefits, but is a great way to socialize with all ages.  Cangelosi states that many of his customers were members of AA looking for a place to meet people of all ages and have a good time without having to go to the bars.  He also has a number of PWA who go skating to reduce stress and strengthen their immune systems.  Just one visit will convince even the most introverted of individuals that this is one party that everyone is invited to regardless of who you are.
The Surgeon General says exercise prevents disease, improves mental health.  According to the first ever surgeon general's report on physical fitness and health, moderate exercise is as essential to a healthy life as good nutrition, seat belts, and avoiding cigarettes.  The 280-page report says that disease can be prevented and mental health improved by regular, moderate exercise that anyone can do.  There are numerous exercises that anyone can do, but there aren't many exercises that anyone will do.  We live in a couch potato society where too many people's exercise routines consist of flipping channels with the remote and occasionally walking to the kitchen for more potato chips.
However, there is one exercise that more and more people are beginning to enjoy—roller skating. Roller skating participation has increased significantly in the past several years as in-line and 4 wheel quad skating has grown ever more popular.  A recent survey of sports participation, conducted by the National Sporting Goods Association, shows roller skating as the sport with the biggest increase in participation  (3.2 million people participated in various roller skating venues such as social skating, competitive, hockey and speed.)
The surgeon general defines moderate physical activity as using 150 calories of energy.  JUST ONE HOUR OF MODERATE ROLLER SKATING BURNS 330 CALORIES ON A 143-POUND PERSON.  If that same person roller skates vigorously, he or she will burn 590 calories in an hour.  So what's keeping more people from roller skating?  It could be that they don't want to dodge traffic and bad weather to get a good work-out.  People will go to a gym and run on a tread-mill, or use a step machine, but they forget that they can to a ROLLER SKATING RINK to SKATE.  What people don't realize is skating centers provide a safe and smooth surface to skate on, and they rent skates.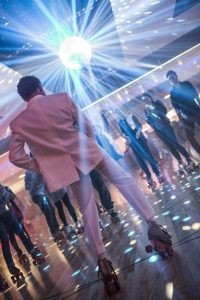 Cangelosi believes that part of the success with the sessions is attributable to the skaters themselves.  Moonlight in Glendale has developed a large following.
It is refreshing to have such an enjoyable way to meet people, in an atmosphere which is both uplifting and supportive to our community.  Even the most novice of skaters would have no problem enjoying the festivities at the Moonlight Rollerway Roller Skating Rink.
Next time you are sitting in front of the tube thinking about how you should be exercising, take a trip to the MOONLIGHT ROLLERWAY ROLLER SKATING RINK, 5110 SAN FERNANDO RD, GLENDALE; PHONE 1-818-241-3630.  Bring your quad or in-line skates, or just rent them. A life without exercise is more than just boring, it unhealthy.