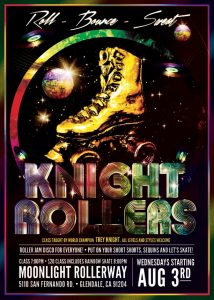 Knight Rollers' Roller Jam Disco class is a fun, challenging, new skating workout taught by world champion, Trey Knight, every Wednesday evening at 7pm for only a $20 fee.  You receive the one hour class and can stay to skate the 8-11pm Rainbow Skate session..
Come learn correct skating techniques which include forward, backward, turns, spins, and different exercises. You will build strength, balance and coordination. Available for all level of skaters. 

The class begins with a warm-up, into strength building with proper skating technique and then concludes by learning roller dance choreography! Yes that's right! Each week you will learn roller dance choreography. Breaking down different roller dance moves, setting it to music and performing it under the disco ball!

So throw on something that makes you feel good and come get fit while learning something new!